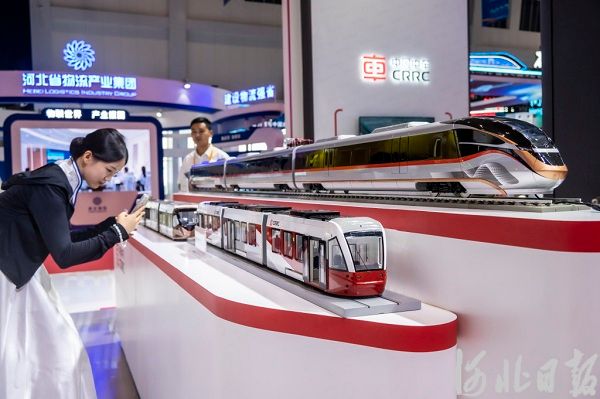 A visitor takes a picture at the CRRC display booth in the Hebei pavilion set during the 2023 China Langfang International Economic and Trade Fair. [Photo/Hebei Daily]
The 2023 China Langfang International Economic and Trade Fair was unveiled in Langfang city of North China's Hebei province on June 17.
Hebei's strength and achievements in eight aspects, including new energy, transportation, port-centered industry, digital economy, and tourism, are being demonstrated at the Hebei pavilion.
Seizing the chance granted by the new round of energy revolution, Hebei is currently optimizing its energy structure and coordinating the development of photovoltaic, wind, hydrogen, nuclear, and other clean energies.
The province uses blue as the dominant hue for the port-centered industry. Boasting 487 kilometers of coastlines and three major ports in Qinhuangdao, Tangshan, and Huanghua, Hebei has unique conditions to develop the industry.
The industrial layout for port trade logistics, marine bio-pharmacy, strategic emerging sectors, and traditional industries can be seen at the port-centered industry exhibition area.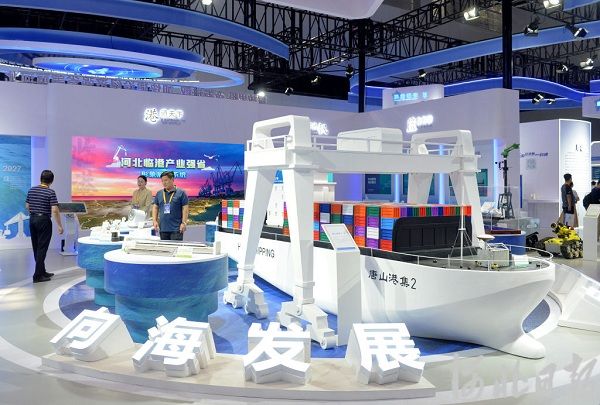 An exhibition area showcasing Hebei's port-centered industry. [Photo/Hebei Daily]
At the logistics exhibition area, a radial logistic network with Hebei at its heart is conspicuous, with several of Hebei's transport landmarks, such as Beijing Daxing International Airport, Tangshan Caofeidian Port Area, and Shijiazhuang International Land Port, standing out.